Council planners get a bad rep. They're just trying to keep a bit of a handle on the pace, scale and standard of property development, yet with their meagre budgets they're routinely defied and outflanked by corporate developers with deep pockets and fancy lawyers.
Worse still, even the man on the street isn't rooting for them, maligning them as busybody jobsworths because they make him jump through a few hoops when he wants to build a granny flat in his garden.
Tempting as it is to sidestep planners altogether, though, they always seem to catch up with you.
The cowshed castle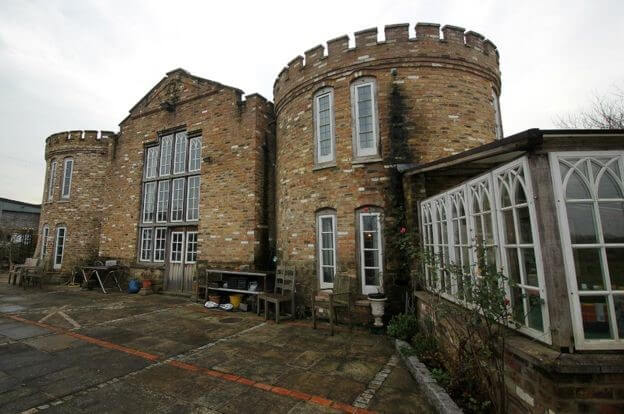 In the Surrey green belt south of London, a farmer called Robert Fidler built himself a mock Tudor castle on the sly. Its magnificent stained glass dome (reclaimed from Brighton Pier, no less) was concealed from the council by the rather unsophisticated but effective tactic of hiding it behind a massive stack of hay bales. For four whole years.
Inevitably, Fidler got his comeuppance, and despite living there for fifteen years and attempting to claim that he couldn't knock his castle down because there were bats living in the roof, the threat of jail time meant he reluctantly began demolition in March 2016. 
The bulldozed pub
After the council rejected plans to develop the Carlton Tavern in London's Maida Vale, the inter-war pub was in the process of being considered for grade-II-listed status by Historic England, when the building's owner decided to make the decision a moot point.
The landlady was told to close the pub 'for an inventory', and the next thing anyone knew the bulldozers were ripping through the building, burying the darts trophies and the widescreen telly, and almost crushing her son's car with falling masonry.
But Westminster Council bit back, insisting that the pub was rebuilt 'brick for brick' and refusing to allow the site to be sold until it was restored. The developer dug his heels in, and May 2016 saw a 'landmark public enquiry' to determine whether or not they could be forced to comply. The result is expected later in the summer.
The Hoxton developer
You'd have thought someone might notice if you threw up a block of flats in prime east London without getting permission, but Garland Development Ltd not only erected a block of 34 flats in Hoxton, but subsequently ignored an order to demolish the building, and thought they'd got away with renting the flats out for several years.
Eventually Hackney Council wreaked their revenge on Garland in court, with the judge not only ordering them to tear down the flats, but also to pay a fine of £700,000 – one of the largest on record.
The inland lighthouse
In rural Lancashire, the multi-millionaire behind Fisherman's Friend lozenges casually built a 30-foot replica of Fleetwood Lighthouse in a field near her house, but neglected to tell planners until afterwards.
Doreen Lofthouse was warned she might have to raze her lighthouse to the ground, and at one stage threatened to chain herself to the structure in protest, but despite the advice of the local planning department, councillors voted in March to let the noted local philanthropist keep her folly.  
The hobbit house
With twelve grand and a bit of hard work, a young couple in Pembrokeshire in Wales built themselves a charmingly quirky, eco-friendly little home on some land belonging to one of their parents. But they neglected to notify the council until they'd already moved in with their young son, and planners voted to level it.
Thankfully, due to massive international support and a lengthy appeal process, the 'hobbit house' – as the media christened it – was saved. In return, the couple agreed to meet some very strict sustainable living criteria, including providing 65% of their food and livelihood from the land.
---