We now have data through for the first quarter of 2016, telling us what's actually happened to property prices so far this year. This is a good time to look at how the market is performing and whether the forecasters are on track with their predictions to date.
The Land Registry, which includes cash sales that now account for around 30% of purchases, shows the average increase in prices for England and Wales as 6.7%.  Nationwide, which only looks at mortgaged property prices, gives a slightly lower increase of 5.3%, but this is for the UK as a whole - i.e. including Scotland and Northern Ireland.
However, these 'averages' don't reflect very many actual performances of the regions, and one of the most noticeable things about the data is the stark contrast in property price performance from one area to another.
Property price performance
From the Land Registry's perspective, the highest performing region is London, which grew by nearly 14% year on year, and the worst performing region is the North East, which actually fell by almost 1% year on year.
The Nationwide results don't differ quite so much, showing London increasing by 11.5%, suggesting that cash purchases are driving average prices upwards more than mortgaged purchases. The worst performing region is the North East, with property prices falling by 1.1%, and Scotland is also down, by -0.2%.
What is interesting about the data is that it shows London, the South East and East of England are the real drivers of positive price growth, but double-digit increases haven't yet hit the Midlands, North and other regions across the UK. It's apparent too that despite much talked about price growth, several regions have yet to recover to the levels they experienced just before the credit crunch in 2007/8.
For example, the Land Registry figures I track for 22 towns suggest that by the end of the first quarter this year, although many reports show average property prices in England and Wales as up year on year, in reality 50% of these towns are still below the heights they achieved before the global financial crisis. Some of them remain substantially below their highest levels, such as Liverpool and Bradford, which show average prices as 25% and 23% lower, respectively.
So, although the year-on-year figures are looking good in most of the country, this very much disguises the long-term downward effect the credit crunch has had on property prices.
Have the forecasters got it right so far? 
Currently, the honest answer is no! For example, London and the South East are still growing at twice the rate the forecasters predicted. Looking at the other end of the spectrum, the North East and Yorkshire and Humber were forecasted to grow by far more than they actually have. Overall, the forecasts have reasonably accurate for the South West, East Midlands, West Midlands and Wales.
To be fair to the forecasters, in my experience price growth tends to be stronger in the early part of the year and then flatten towards the end, so it may well be a little too early to judge them yet!
What's the five-year forecast looking like?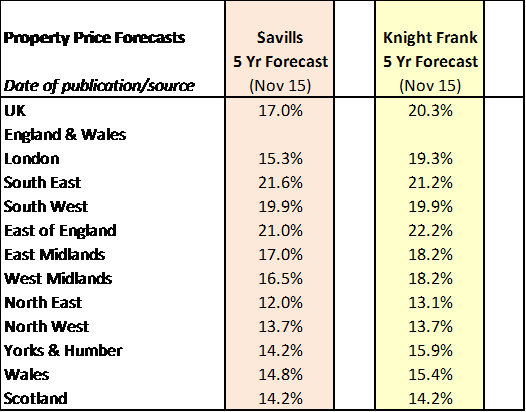 Of course, buy to let investment is not a 'buy today and sell at a profit tomorrow', it's more like a 15 to 20-year investment, depending on when you bought the property. Looking forward, Savills and Knight Frank predict pretty similar figures, although forecasts vary greatly from one area to another.
For example, capital growth-wise, the lowest performing area is expected to be the North East, but with the actual figures we've seen so far, even growth of 12%-13% over the next five years may not be achievable. That suggests that if you are investing in this area, you should be focusing on income returns and/or making sure you build in good levels of equity from the day you buy, by purchasing at a discount.
The East of England and South East are expected to be the top performers moving forward. Despite London's continued price drive so far this year, it is expected to slow down over the coming years, mainly due to affordability issues and a clamp down in lending levels versus income earned.
How is your property performing versus the region?
You can see from the figures that where you invest makes a big difference to potential capital returns. As such, it's worth looking at the actual results by region every quarter from Nationwide and Land Registry to see how your property investment compares with 'average' growth. As an investor, your property should ideally be delivering more capital growth than the average; if it isn't, it's worth double checking whether your money could deliver better returns invested elsewhere.
---
Sources:-
Land Registry data by town I track: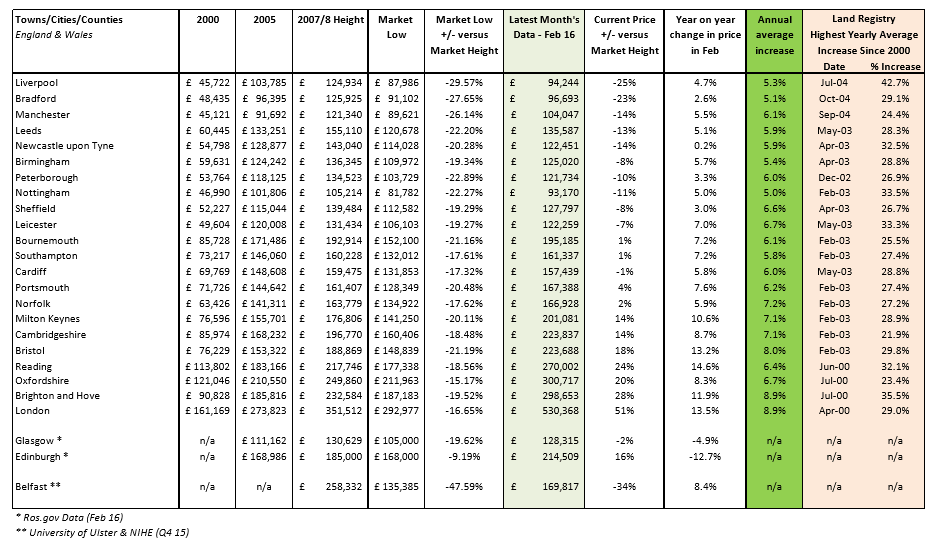 ---
 This information has been provided by our partner Mortgage Advice Bureau. For more information relating to Mortgages or for Mortgage Advice please visit Mortgage Advice Bureau.
---