At the end of 2015, we normally see various property price forecasts come through to guide us on how the market might perform in the following year.
Some, such as Capital Economics and the Centre for Economics and Business Research offer national forecasts and in 2015 they were suggesting property prices would rise by 2% and 3.5% respectively for 2016*.
Property forecasters such as Savills and Knight Frank break down their thoughts on what will happen to the market on a regional basis. 2015 forecasts suggested prices could change in 2016 from a small 2.5% rise in the North East (according to Knight Frank) to the largest rise of 6.5% from Savills for the East of England (see the table below)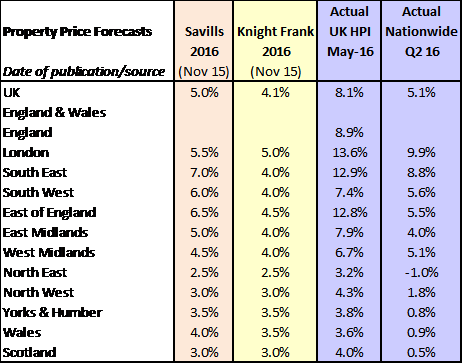 So how have the forecasters faired?
The table shows that both Savills and Knight Frank were expecting 4-5% overall growth for the UK. When comparing these forecasts to Nationwide's actuals, these appear to be pretty accurate, but it's worth remembering they only measure their own mortgaged sales, whereas the wider market includes cash sales. Looking the UK HPI index (which replaced the old Office of National Statistics and Land Registry report) this suggests the forecasts are, so far, shy of actual growth achieved, which when including cash sales suggests a better than forecast performance of 8.1% growth 2016 versus 2015.
As far as both the Nationwide and HPI data actuals are concerned, these have both clearly performed much better than the economic forecasters predicted for the housing market.
From a regional perspective so far, London and the South East performance seems to have outperformed forecasts substantially, whereas the forecasts for the East of England and Midlands appear to be low versus the HPI results, but about on par with those of Nationwide.
Overall, the North, Wales and Scotland, so far this year appear to be rising at a lower rate than forecasters predicted.
What about revised forecasts post Brexit for 2016 and beyond?
Since last year and especially post the Brexit vote, some forecasters have adjusted their views on where the market will be by the end of the year and some have been brave enough to suggest early forecasts for 2017 too.
So far, the Centre for Economics and Business Research forecast a rise of 5.7% in 2016 and 2.2% in 2017. Other forecasters such as PWC suggest that house price inflation will slow to 3% this year and the market will only manage 1% in 2017.
From a regional growth perspective Savills have yet to revise their forecasts, however Knight Frank have made some adjustments, but as the table below shows, the revisions are small and just indicate the market might not move up year on year as well as hoped.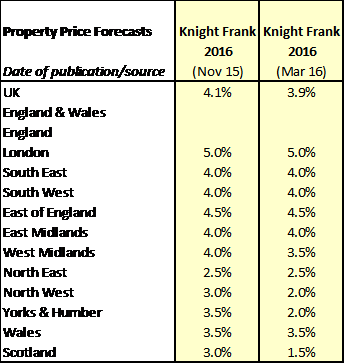 Speak to your local agent!
As someone that regularly studies property price statistics and reports as well as reviewing individual property price performance, the only real way to know in today's market what is happening is to talk to your local agents to find out what's happening.
Average statistics can skew the reality of what's happening on the ground as we see incredible differences based on local supply and demand factors, so local experts are really the key to up to date market knowledge.
This information has been provided by our partner Mortgage Advice Bureau. For more information relating to Mortgages or for Mortgage Advice please visit Mortgage Advice Bureau.