With the recent Brexit vote, the subsequent Conservative reshuffle that included a change of Prime Minister and the current Labour leadership contest, it's easy to forget that on the 7th May this year, we also had a new London Mayor, Labour's Sadiq Khan.
When it comes to new housing in London, it's the Mayor, together with the individual London Boroughs, that is responsible for delivery, and it hasn't gone very well over the past three decades. According to respected housing academic, Professor Christine Whitehead, from the London School of Economics, "Since the early Eighties London has only managed to build around 15-17,000 homes a year". However, things look as though they may slowly be improving for the capital.
In England in 2015/16, we managed to complete 139,690 new homes. That's 11% more than was achieved in the previous 12 months, but it's still 18% lower than the number of homes that were built annually, pre-credit crunch. London, however, is bucking the trend. Of these 139,690 new homes, 24,140 were built in London, which is nearly 7% more than pre-credit crunch and much higher than the average build since the 1980s
While this is a positive step in the right direction, it's still a long way off the 50,000 homes that the new London Mayor and his Deputy Mayor for Housing and Residential Development, James Murray, are keen to build each year.

The official new strategy has yet to be formalised, but the administration has confirmed that, as well as building more homes:
Londoners should be given a 'first option' to buy new homes in the city
50% of new homes should be 'affordable', supported by making more public land available
There should be a 'London Living Rent' that equates to a third of people's wages
A 'not-for-profit' letting agent will be created
Targeting rogue landlords will be stepped up.

So the three key policies that could impact on landlords of properties in London are the Living Rent, new agents and an increase in policing rogue landlords.
London Living Rent
This is expected to come in the form of a new kind of tenure provided by the likes of housing associations. The intention is that tenants will have the opportunity to rent a property for the 'affordable' 33% of earnings, as opposed to the current situation, where rents are aligned with the local market.
As far as the potential impact on landlords is concerned, the question is whether it is actually possible to provide housing in London at a third of earnings. As prices tend to rise much faster in the capital than rents do, investors need to put down increasingly large deposits in order to ensure a property generates a positive cash flow each month. To buy such a property today would require a deposit in excess of 50% in most areas, and this will increase with the rise in taxation from April 2017. So it will be pretty tough to buy properties or build new homes that make this proposed tenure financially viable.
If it should prove to be achievable, it's unlikely to have much of an impact on private landlords, quite simply because the population of London – and therefore the demand for rented accommodation - is still expected to grow substantially over the coming years, as shown in the chart below.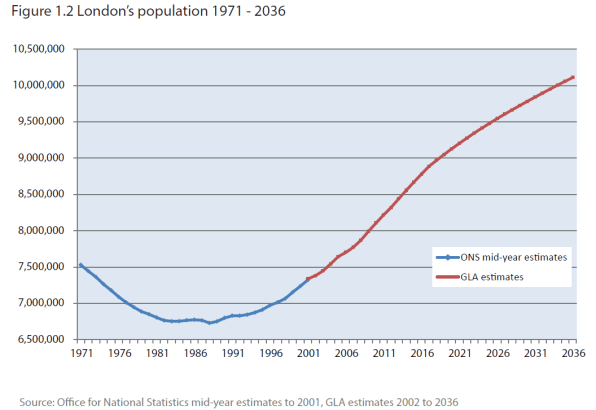 Not-for-profit letting agents
For landlords that currently use managing agents, the idea of one that is 'not for profit' may well lead you to believe that you could save money on your management costs. However, not-for-profit agents have already been set up in some areas, including Worcester and Haringey. In Worcester they don't charge tenants, but charge landlords market rates, which are similar to private agencies. Meanwhile, in Haringey, where the council have set up an online agent, tenants are charged fees of £180 per tenancy, £72 per tenant for referencing and an additional £50 for guarantors and landlords market rates.
So, although 'not for profit' sounds as though there might be a saving, in reality, tenants could still be charged and landlords might not see any financial benefit to switching from a private high street agent.
Targeting rogue landlords
London is already doing well compared to other parts of the country, with 580 landlord prosecutions between April 2011 and March 2014. Offences included failing to improve properties, continuing to rent properties that presented serious hazards, overcrowding and not having a required licence, such as for a House in Multiple Occupation.
However, a staggering 61% of these prosecutions were carried out by Newham Borough Council alone, suggesting that there are a lot more landlords who could be prosecuted if other local authorities put the same resources into enforcement.
For any good landlord or letting agent, prosecuting rogue landlords and taking them out of the market can only be good news, as even a few prominent rogues tend to give the whole industry a bad name.
The overall picture currently is that any landlord letting in London is likely to be doing well, with far more people looking to rent than there are properties available to let. And the policies we have seen so far have tended to support the more 'affordable' end of the market, as opposed to affecting private lets to professionals.
To find out more about the new Mayor's office's thoughts on housing, you can view the whole committee meeting, held on 7th June.
This information has been provided by our partner Mortgage Advice Bureau. For more information relating to Mortgages or for Mortgage Advice please visit Mortgage Advice Bureau.