Recycling is more important than ever – but reusing old items is even better for the environment. If you have old things around the home that don't serve any purpose, try to find another purpose for them rather than throwing them out.
By reusing things, you will reduce your waste, save money and create some cool and original items around your home. Here are some great ideas from around the web that you can use as inspiration.
Turn Plastic Spoons into a Lamp
This YouTube video shows how you can make your own lamp out of old plastic spoons. It sounds like a child's school project, but the end result is surprisingly elegant and sophisticated. You'll love telling your friends what the lamp is made of when they comment on how beautiful it is.
Turn One Old Table into Two Desks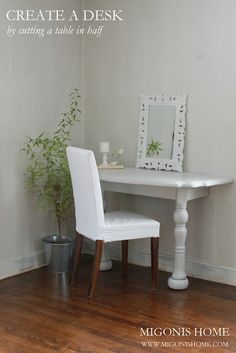 Image via http://migonishome.porch.com/
What do you do with an old table that has had its day? Perhaps you no longer have space for it, or maybe it's looking a bit shabby for your home. One option is to cut it in two and create two stunning wall desks, as described here. All it will take is a lick of paint and some basic DIY, and you've solved the problem.
Picture Frame Earring Holder
This is a surprisingly simple and stylish solution for old picture frames that you no longer use. Simply take the frame, decorate it how you wish, and then attach some wires from one side to the other. You can then use them to hang your earrings, providing a simple and attractive storage solution, as described here.
Broken Pot Garden Markers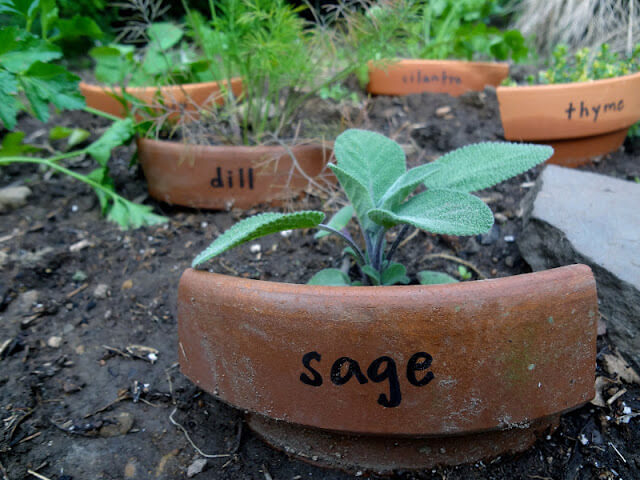 Image via hardlyhousewives.com
Once you start getting creative, you will realise that almost anything can be reused – including broken gardening pots.
All gardeners will drop pots from time to time, and you may be familiar with heading to the garden centre to buy new ones more frequently than you would like. But don't throw the broken pots away – instead, turn them into markers that you can use in the garden, as shown here.
Bottle Mobile Charging Station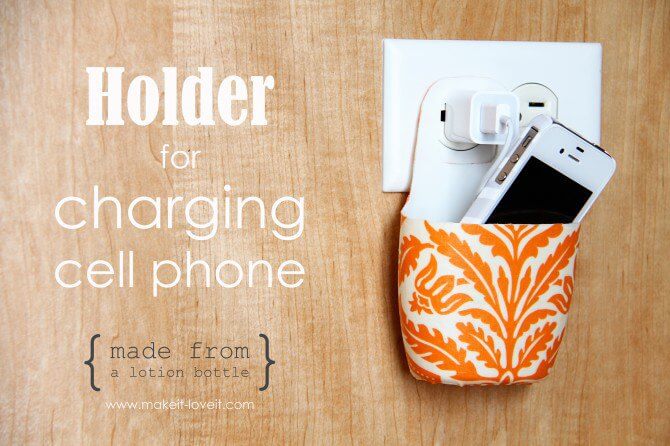 Image via makeit-loveit.com
This is a great idea for tidying up all of those mobile phone wires that constantly get in the way around the home. Simply create a mobile phone charging station out of an old bottle, as shown here, and you can instantly tidy up all those wires.
Turn Cracked Plates into Art
Who hasn't thrown away at least a few cracked plates in their time? You may think there is nothing useful you can possibly make from broken plates, but you could always turn them into wall art. This will make an interesting feature and you won't have to throw them away.
Turn an Old Ladder into a Bookshelf
This is an excellent idea for making use of an old wooden ladder. Here you will see how a ladder has been turned into an original bookshelf by simply attaching it to the wall, and there is no reason why you cannot do this in your home.
Reuse Old Items and Avoid Throwing Them Out
If you are creative enough, you can find ways to reuse practically anything. For example, rather than throwing out your old envelopes, use them again by simply covering up the address labels. You could also turn your old clothes into cushion covers, or use old jars to store various things.
Get into the habit of reusing things around the home. You will save money as well as doing your bit for the environment. And you will also end up with some unique items around the home to impress your friends.
---