The UK's housing market remains a top topic of discussion, particularly amid the current uncertainty surrounding Brexit. Indeed, the collective decision to leave the European Union has had some effect on house prices and house buying activity. However, it's not the only development that has encouraged a response from buyers, sellers and investors.
We've taken a look at a variety of housing market measures and expert opinion, to gain a clearer picture of just how Brexit has affected property so far. There are also a number of outlooks from property analysts and experts about what the future could hold, too
Let's take a look at the housing market – Brexit picture so far.
House prices and transaction activity
For many people, the level of house prices is a measure of particular interest and there's no question that the initial vote to leave the EU and more recently, the uncertainty around leaving with a deal or without one, has influenced house prices.
Data shows that house price growth slowed noticeably for a few months following the referendum result. They then edged higher again as usual housing market forces came back into play with low supply, strong demand and very attractive mortgage interest rates helping to keep prices growing, albeit at a slower pace.
The latest house price index from lender Halifax, however has shown that after a slowdown in annual house price growth to just 0.8% in January, February has seen those fortunes reverse. The lender calculates the average UK home price was 2.8% higher in February 2019, than a year earlier. That's highest increase since August 2018 and comes as prices surged by 5.9% on a monthly basis.
The reason? A lack of property for sale is among the main ones, according to Halifax managing director, Russell Galley.
"The shortage of houses for sale will certainly be playing a role in supporting prices," Galley said.
Transactions levels, however, appear to be less affected by Brexit. There was a spike and then sharp slowdown in activity, but this has been linked to the introduction of the 3% stamp duty surcharge for second home owners and property investors.
Aside from that, transactions have remained pretty steady, according to HMRC transaction data.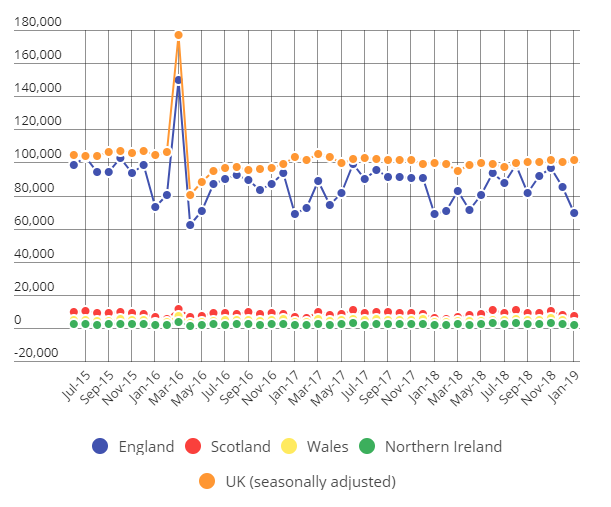 Source: HMRC property transaction data, chart compiled by Which?
Indeed, Halifax's Galley points out that transactions in January were "right on the five-year average and, at over 100,000 for the fifth consecutive month, the overall resilience of the market is still evident."
Future house price outlook
While it's important to understand how the vote for Brexit and subsequent discussions and political issues have affected the UK housing market so far, it doesn't really tell you what could still happen to the UK's housing market in a future, potentially post-Brexit world.
We've previously written about how Bank of England Governor Mark Carney has warned that disorderly, no-deal Brexit could result in property prices dropping by around a third from their current levels.
Of course, that a worst-case scenario and not once currently shared by many others. Although, according to Paul Smith, Chief Executive of Haart estate agencies, a delayed Brexit negotiation period could prove even worse for the housing market than a no deal exit.
"Extending negotiations would only encourage further uncertainty, resulting in a delay among buyers and sellers," Smith told This is Money. "Should this continue throughout 2019, we could expect transaction volumes to dip by as much as 20%, further stunting any opportunity of economic prosperity at a time when we need it most."
Meanwhile, if the UK leaves the EU with a good deal, any housing market uplift would likely prove to be short-lived, as it would likely encourage interest rate to rise, chief UK economist at Pantheon Macroeconomics chief UK economist, Samuel Tombs said.
"With loan-to-income ratios at a record high, even modest increases in mortgage rates will greatly dampen house price growth," Tombs said in a comment following the Halifax HPI publication. "As a result, we still expect the official measure of house prices to rise by just 1.5 per cent over the course of 2019."
It clear to see that over two years on from the initial referendum, that the only thing housing market experts can agree on, it that uncertainty is set to remain for as long and Brexit is undecided and probably, for some time after it is, too!