It is very important to keep your house tidy and clean, especially given the current climate. Keeping on top of the cleaning can be a joy for some, but a chore for others. Furthermore, cleaning products can be pricey and bad for the environment.
We have put together some handy cleaning tips which will not cost the earth (literally!) and the ingredients can be found in your kitchen cupboard. You will not only be saving money, but helping the environment too.
The Magic Ingredients
There are six key items you can use to clean pretty much anything in your home, and you are likely to find them in your kitchen already!
Olive Oil
This versatile cooking oil is also a great cleaner and polisher
Baking Soda
With proven virus-killing abilities it also cleans, brightens, gets rid of odours and cuts through grease like a knife.
Lemon Juice
Acidic and fresh-smelling, lemon juice is great for getting rid of mould and mildew and for giving surfaces a clean shine.
Vinegar
Arguably not as great-smelling as lemon juice, vinegar is your one stop shop for all things clean! It is great at getting rid of grease, scum, dirt and scale.
Essential Oils
Because let's face it, the smell of vinegar will turn your stomach eventually! Essential oils are a great addition to the cleaning mixtures below.
Castile/Marseille Soap
Perhaps a little more difficult to get hold of, these plant oil-based soaps use no animal byproducts or chemicals, making them vegan-friendly and better for the environment, as well as great detergents.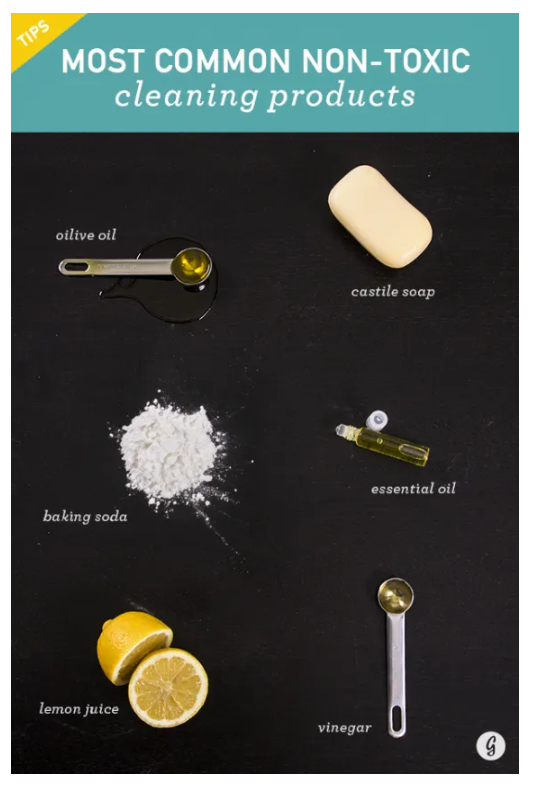 Now, let's take a look at some typical problem areas around the house and how to easily clean them using the ingredients above.
Oven
Everyone's favourite appliance to clean… take the stress out of oven cleaning with the magic of vinegar and baking soda! Put the oven on a low heat for around thirty minutes. Spray the inside of the oven (especially the troublesome bits) with vinegar and leave to soak in for a couple of minutes. Then, add a sprinkling of salt or baking soda and leave for another few minutes. Finally, rub enthusiastically with a damp cloth to remove the crusty bits. Once done, give the entire oven a wipe over with a clean, damp cloth and voila - a nice clean oven.
Microwave
Put some vinegar in a cup and add a few squirts of lemon juice. Run the microwave for two minutes with the cup (uncovered) inside. Once it is done, leave for a minute or two so the solution can get to work. Then, open the microwave, remove the cup and wipe down the surfaces with a damp cloth - nice, sparkly clean microwave!
Shower/Bath
To get rid of mildew, spray vinegar on the area(s), leave it for at least 30 minutes, and then rinse with warm water, giving it a scrub with a damp cloth if necessary. Or, try mixing together baking soda with a bit of liquid castile soap, scrubbing and rinsing.
For daily cleaning, mix one part water with one part vinegar and a few drops of essential oils in a spray bottle. Spray,leave for a few minutes and then wipe with a damp cloth.
Drains
Do you remember that science experiment from school, using vinegar and baking soda? Well, now you get to try it in your own home! To unclog a stinky drain, first, pour a couple of cups of boiling watr down. Then, add half a cup of baking soda and half a cup of vinegar. Cover the drain with a plate or thick cloth, until the fizzing and bubbling subsides. Then, rinse out with some water,
Floors & Walls
Mix one part vinegar with three parts water in a bucket. Add a couple of drops of essential oil like lavender or orange blossom, Dampen a cloth and rub down the floors and walls with ease! This works best on tiled/parquet floors and painted walls.
And let's not forget, a fantastic, one-for-all detergent - three parts water, one part castile/marseille soap and a liberal few drops of essential oil.
Happy Cleaning!