Buying a new home is an expensive business no matter where in the UK you live. First of all, there's the biggest single cost – the property. But, there's a lot more to pay for than the building you intend to live in! If you're unsure what costs you need to budget for don't worry, we've put together a comprehensive list so you know exactly what fees you're facing.
First-time buyers
If you're moving from rented accommodation into your own home, you might be in for a bit of surprise at the different fees you'll need to pay.
We've already established the significant outlay for your new home which can be anything from around 10% of the value of the property you're purchasing to a much larger percentage of around 60-70%.
But it doesn't end there. Not by a long shot.
Stamp duty – this is calculated as percentage of the price you pay for your home as the value moves up through different brackets.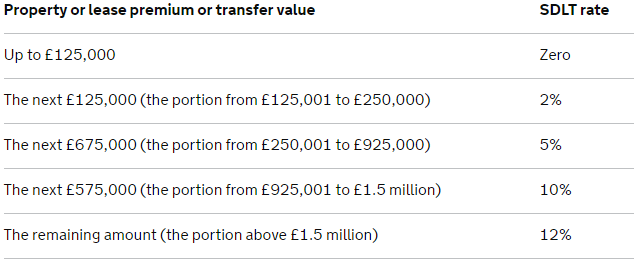 (Source: www.gov.co.uk)
Previously it was calculated differently but this way can work out a little less expensive for properties that are around the different thresholds. For example, prior to the new rules that were introduced in 2015, a property worth £260,000 would be subject to a flat rate 3% stamp duty charge of £7,800. With the new staggered format, the stamp duty charge is £3,000.
---
Surveyor fees - Unless you're buying a new build property that has a guarantee and survey included in the sale package, you'll need to get a survey of some description conducted on the property you're buying. These fees are set by each surveyor firm and tend to come in at an average of £665, according to a survey by Lloyds Banking Group. If you're buying an old property, however, and opt for a full structural survey then you're more likely to be looking at something over the £1,000 mark.
Solicitor/Conveyancing fees – here, you're paying for the service provided by your solicitor or conveyancer. These tend to come in at a fixed cost, although you tend to pay a little more for a solicitor because they have a broader knowledge of property law. A conveyancer, meanwhile, works only on the paperwork, transfers and communications related to buying and selling property. If something unexpected comes up that needs knowledge of the law, then a conveyancer will pass that part onto a solicitor who will charge separately for their input. For 2016, Lloyds Banking Group puts the average conveyancing charge at £1,250.
Local Authority search charges – while these aren't among the most expensive of your outlays, it is still worth remembering. You will pay these to your solicitor or conveyancer when they conduct the searches with the Land Registry and Local Authority to ensure there's nothing in the vicinity of the home you're buying that you don't know about or need to be concerned about.
Removals costs – this is only relevant if you have a lot of furniture of your own you plan on moving into your new home. If you're planning on employing a removals firm, the charges depend on how much furniture and belongings you intend to move and how far you are moving. One small van a few streets away won't be too pricey. But a house full of furniture and white goods half way across the country will be more. Lloyds Banking Group gives £1,111 as the average price in 2016. Of course, you can cut this cost considerably if you hire a van and ask a few friends to help with the promise of pizza and a few beers!
Mortgage arrangement fees – although most people tend to add these on to their mortgage so it becomes part of your monthly repayment, it's still an additional fee that you will pay when you buy a home. They tend to be fixed charges that are upfront, although there are a few mortgages that come fee-free, particularly for first-time buyers, so it's worth doing your research.
---
Beware unexpected costs
While you're looking at an average moving cost of somewhere in the region of £11,000 when you buy a home, there can be some surprises that can add to that.
If there are difficulties with the sale that require additional legal details and knowledge, you may end up being charged for that. Costs will include the additional time spent by your solicitor and you may also be charged for, or be required to a percentage of the costs of any additional works that need to be done in order to resolve the issue.
If your basic survey throws up some questions, further investigation may be required. While you might think this is something the seller should be paying for, if it's just investigative works to ensure you as a buyer are happy to proceed, then the cost will fall at your door.
If, however, the survey uncovers problems with the structure of the property, the electrics, insulation or boiler and gas fittings then this could be a major cost that needs real consideration.
---
It's always worth negotiating
If unexpected costs do come up and you think there's a legitimate reason why the sellers should share some of that cost, don't shy away from instructing your solicitor or conveyancer to request a part payment from the seller.
Or, if they're unwilling to share some of the financial load, you can always discuss a lower offer. While this may seem unscrupulous, it can be a good way to encourage the seller to part with a little cash up front rather receive a lower final balance to purchase their next property.
---
Don't forget to budget for the fun stuff
The cost of the physical purchase and move is high and you don't always feel as though you really know where all that money has gone! To make up for that feeling, do your best to keep some money aside for the fun part of a new house – decorating and filling it!
It doesn't have to be a fortune, but having enough for a few trips to your local DIY and furniture shops to add a lick of paint, have a decent oven and fridge and buy a comfy sofa are pretty essential. And, don't forget all those take-aways you'll be eating while you're working into the night unpacking, organising and decorating too. Who said moving house was stressful?!
Information contained in this article may have changed since it was first published. Ezylet strongly advises you to seek legal advice from a qualified professional.